Build with Colony and compete for $25k in prizes
Hello, world
Colony is most fundamentally a platform and toolset meant for collaborative building — new relationships, teams, and entire open organizations. We've been building Colony for a while, but it's time you started building with us too.
Today, we're releasing colonyJS. It's a library for JavaScript developers that want to build tools and (d)Apps that work with the Colony Network.
And to celebrate, we're doing something fun: The Colony Hackathon.
$25K in prizes. A kick-ass lineup of Judges. Self-organizing projects. Boom.
#Buidl with Colony
The Colony Network is a system of smart contracts on Ethereum: open source tools for a more open, collaborative, decentralized future of work. These contracts provide a sophisticated toolset for the operation and governance of decentralized organizations.
Starting with mechanisms for division of labour, token incentives, and a reputation system which quantifies the expertise of contributors to a project; the Colony Network will be the backbone that enables things like work coordination, decision making, and dispute resolution to happen without bureaucratic tedium or incessant voting. But there is much more in the burgeoning open-source decentralized ecosystem — and smart contracts are helping it grow.
The future of work will emerge from all our collective imaginations, and from the work we do now to enable it. You see, this picture of an open, fluid collective of blockchain organizations only really works if there are diverse, modular, and creative components for organizations to utilize.
We opened the colonyNetwork contracts this January, and have so far welcomed help from a few talented outside contributors in building the foundation of the open organization on the blockchain.
colonyJS was created to help the developers out there who want to use the Colony Network to power their (d)Apps. colonyJS provides a simple and predictable interface to query and interact with the Colony Network smart contracts from their own web3-enabled environment.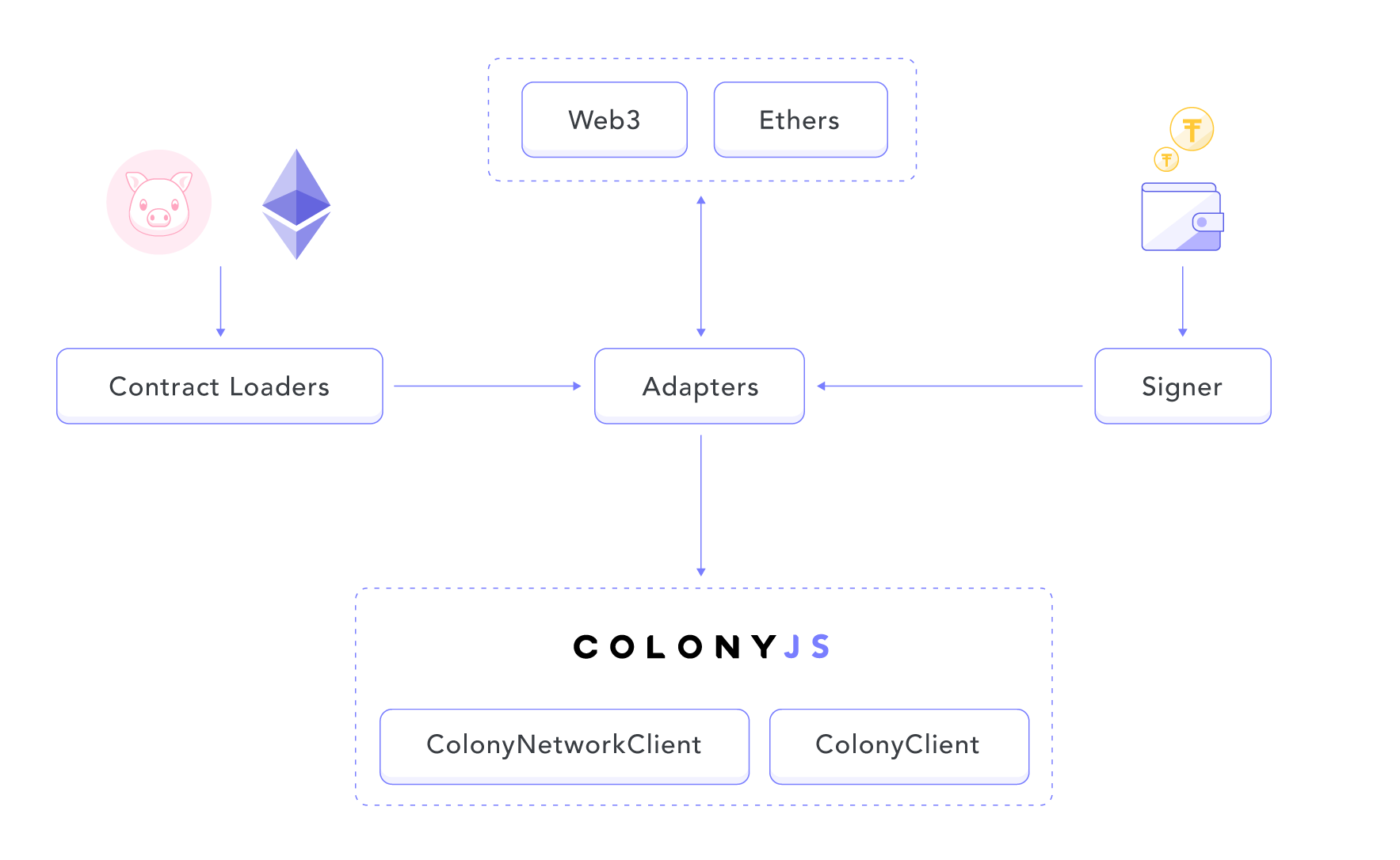 Can't even wait to finish this article before you start tinkering? We like your style! You can learn more about colonyJS by reading the docs.
❤️ for our partners
The hackathon is in partnership with Maker and Gitcoin as part of a collaboration that will see a $25K prize pool paid in decentralized stable coin, Dai, via the Gitcoin platform.
In addition, Blockgeeks will provide educational partner support as Colony champions the next wave of dApp developers. Blockgeeks are offering all participants 3 months of access to the Blockgeeks online curriculum, for free. More details upon registering for the hackathon.
Join the Colony Hackathon
The Hackathon will be global, distributed, and open to all.
Because it's all open-source and dev-focused, the hackathon will live entirely on Github and Gitter.
Here's how it works:
0) Register on the Hackathon Website
You can do it right now. Go ahead, we'll wait.
1) Create an issue in GitHub
After that, your first step is to create an issue in the colonyHackathonrepository. This issue acts as a "soft" registration for the hackathon, and can help you to coordinate your ideas with other participants.
JoinColony/colonyHackathon
colonyHackathon - Submissions for the Colony Hackathongithub.com
Use your issue to brainstorm and organize. Check out the other issues to see if there are participants who want to work on the same things. Need some help coming up with ideas for what to build? Check out this brainstorming doc for suggestions.
For more general questions and discussion, come to the Colony Hackathon Gitter. Members of the colony team will be there to help you find the answers you seek, or just to offer moral support. :)
2) Build with Colony
Starting June 5th (and not a moment before! Dems da rules!), work on your project as you like. How you work is up to you; we recommend creating a new GitHub repo for your team.
Use the issue you created in step 1 to let others know where your project lives. You might want to discuss any technical challenges or attract additional teammates.
The docs are your friend, so make sure to read through the docs and reference often.
Colony Open Source Docs
Just like the organizations that will run on Colony, each component in the colony stack is the product of collaboration…joincolony.github.io
Whatever you work on, remember that your project should include an Open Source License of some form, and should be accessible to everyone after the submission deadline.
3) Fork and PR
When you feel ready to submit, create a new fork of the colonyHackathonrepo, and add your project as a markdown file inside colonyHackathon/submissions.
You can use submissions/exampleProject.md as a template if you like.
Be sure that your project's folder links to the repo you've been working in, and contains any other supporting materials that you want evaluated by judges (such as links to screenshots, a pitch deck, or demo video).
Once ready, submit via a new pull request.
Opening a Pull Request establishes your project as an "official" submission
You can open a PR before the submission deadline and continue to work, but all materials must be finalized before the end of the hackathon. Any commits to your project submission after the deadline will not be considered.
We'd also recommend referencing the issue you created in step 1 using keywords in your PR.
Submit your pull request before the submission deadline: June 24, 23:59 GMT.
4) Congratulate your team (and yourself) on a job well-done
5) Judging and announcing the winners

Starting June 25th, all submitted projects will be shared with the team of judges who'll be grading submissions across these equally weighted categories:
Functionality: How well is your application functioning?
Creativity: Is your application creative and unique given other projects available?
Difficulty: How ambitious of a project was this to create?
Design: Is the UI intuitive and final project polished?
Winners will be notified and announced on June 29th and prizes (which are denominated in Dai) will be disbursed via Gitcoin.
---
If you have any feedback or stories to share, reach out to us on Twitter.

Colony is a platform for open organizations.
Join the discussion on Discourse, follow us on Twitter, sign up for (occasional) email updates, or if you're feeling old-skool, drop us an email.