The CLNY distribution strategy is intended to establish a diverse and incentive aligned set of token holders to cultivate effective long term engagement, growth, and governance of the Colony Network.
Circulating Supply
Day 1 circulating supply after the Community sale will be around 27m CLNY.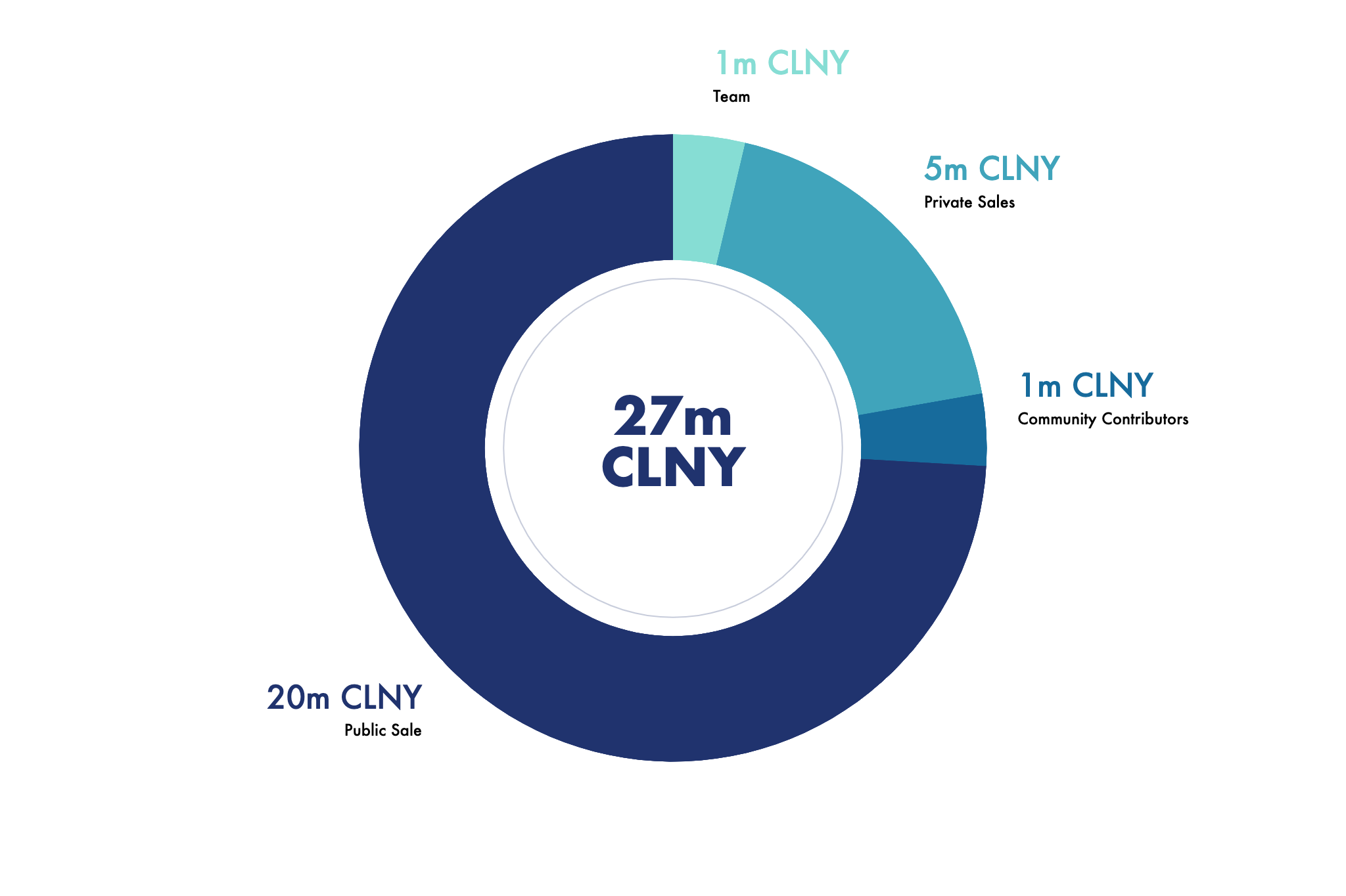 Because tokens will unlock on a block by block basis, all the remaining allocations will enter the market asynchronously over the following 24 months, ensuring that there are no supply shocks at unlocking stages throughout the year.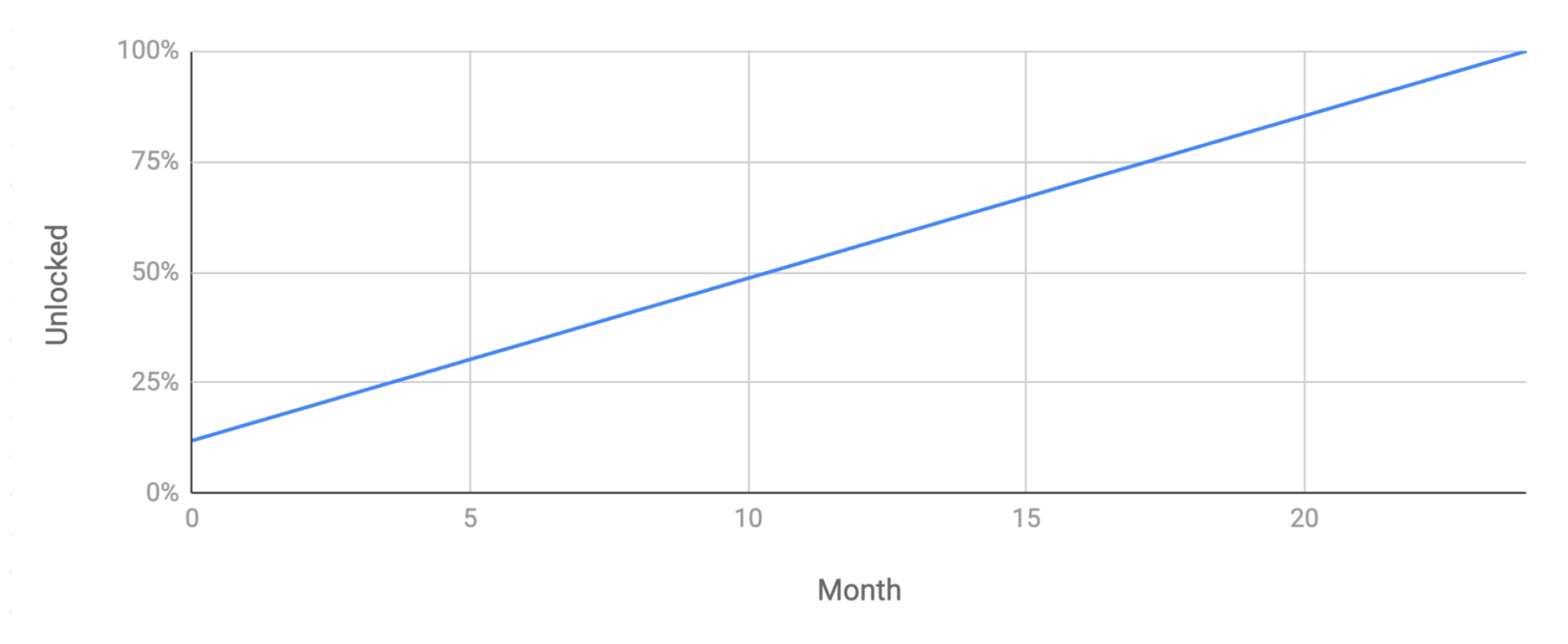 Total Supply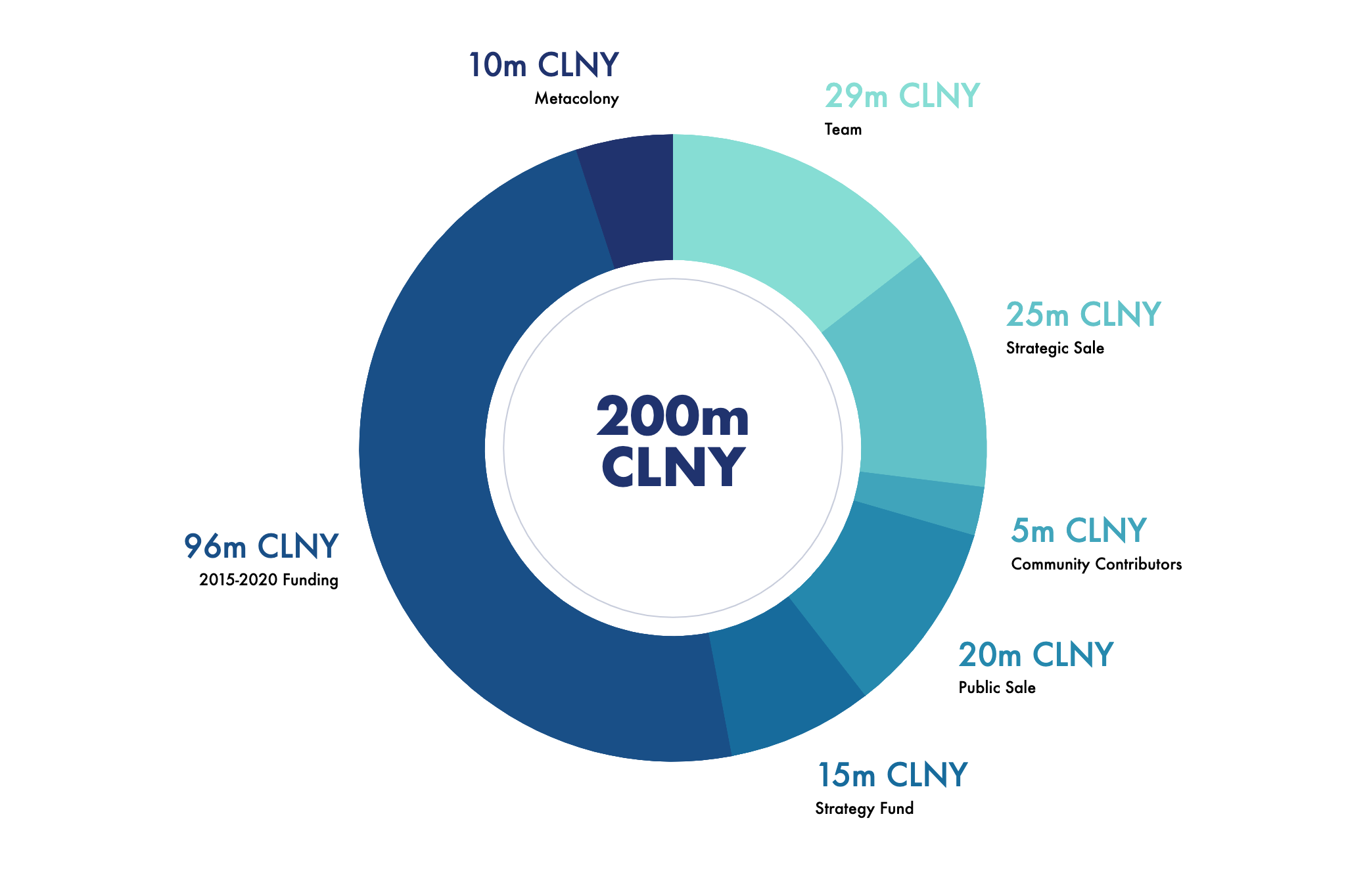 Community Sale — 20M CLNY (10%)
The Community sale will sell 20m CLNY via Coin Machine. It will be structured as a series of hour long token batches in which prices increase or decrease subject to demand over successive batches. The sale will take place over a minimum of 40 hours, but in practise we expect it to take longer due to the design of the sale.

Price will start high at 50 xDai per CLNY and drop until the market finds a price it believes to be appropriate.
DO NOT FOMO into the CLNY sale at the beginning. Please wait until you see a price you like before making your purchase.  
CLNY purchased in the Community Sale will be unlockable shortly after the sale. Full details on this will follow in a subsequent article.
Private funding 2015-2020 — 96m CLNY (48%)
Colony has privately sold CLNY upon request to community members who have approached us since 2014. All of these contributors are Ethereum community OGs who have sought us out over the years to support our work.
To preempt the inevitable complaints of such a large proportion of the supply going to so-called "insiders" and wanting to know the price they bought in at, these pre-sales took place almost exclusively in ETH when ETH was much lower than it is today. The breakeven point for these early contributors ranges between $3 to $15 per CLNY.
All presale purchasers are subject to 24 months unlocking post Community sale. Each token holder unlocks 100k CLNY when community sale tokens unlock, and then the remainder of their balance unlocks linearly on a 'per block' basis over the next 24 months.
Strategic Sale — 25m CLNY (12.5%)
This sale is to build relationships with institutional funds willing to actively contribute to Colony's success; e.g. promoting Colony, participating in the community, making introductions to high quality portfolio projects, staking, and governance.
An important aspect of the Strategic Sale was to be put under the scrutiny of the VC due diligence process to test Colony's readiness. Colony passed the ordeal with flying colours and of the 50+ offers we received from funds, we accepted only the handful we believed would prove steadfast, value adding supporters of Colony in the long term.  
Team — 29m CLNY (14.5%)
Team allocations are subject to the same 24 month unlocking conditions.
Metacolony — 10m CLNY (5%)
An endowment to bootstrap the Metacolony, these funds will be used by the Metacolony to incentivize engagement with initiatives to further develop the Colony framework, application, and ecosystem.
The 10m CLNY endowment to the Metacolony will be unlocked, but is not included in the circulating supply as it will be held by the Metacolony for allocation to specific initiatives, and not available for trading.
Community Incentives — 5m CLNY (2.5%)
CLNY awarded as bounties and awards to the many community members who have contributed to Colony in some way over the course of its development, and for discretionary allocation by Collectively Intelligent Ltd to promotional efforts to support the launch.
Strategy Fund — 15m CLNY (7.5%)
This supply is retained by Colony Foundation Ltd for its strategic use, pursuant to the success of the Colony Network. Examples might include liquidity provision, or sale to high value strategic partners. Use of this fund will be at Colony Foundation Ltd's sole discretion, but will be undertaken transparently, and in consultation with Colony's stakeholders. For the avoidance of doubt, this allocation is explicitly not retained to the personal benefit of Colony Foundation Ltd's directors, or other insiders. If this supply, or any part thereof, becomes surplus to requirement, it will be burned.
Governance
All funds from Coin Machine sales will be governed by the Metacolony.
As the Colony Network is beta software, it would be imprudent to store the project's entire treasury in its smart contracts. Therefore, the majority of funds collected will be held in a Gnosis Safe multisig comprising Colony team and community signatories. This multisig will be the subject of a subsequent dedicated blog post.
The "Root" permission of the Metacolony will initially be controlled by a smaller multisig held by Colony team, which will disburse funds to subdomains, and take other decisions for which the "root" permission is required. As functionality is battle tested, there will be a stepwise process of handing off total decision authority to the Metacolony, as described on page 37 of the whitepaper.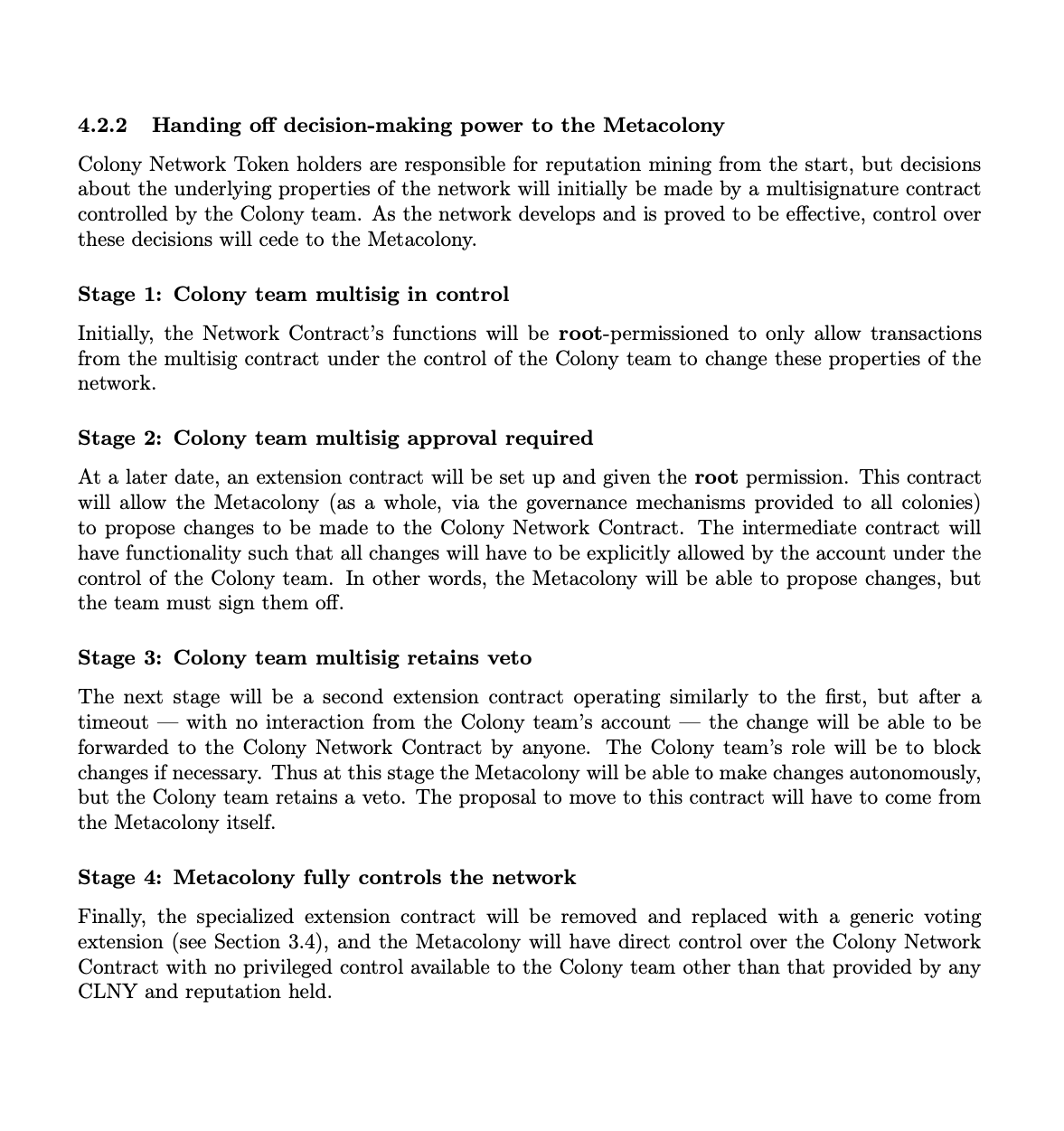 Minting
The minting rate will start at a rate of 10% of the Initial Supply per year. I.e. if the Initial Supply is 200m CLNY, then the annual minting rate will be 20m CLNY. Without factoring in the mechanisms by which CLNY is burned, this represents inflation of 10% in year one, which then tends asymptotically towards zero over time.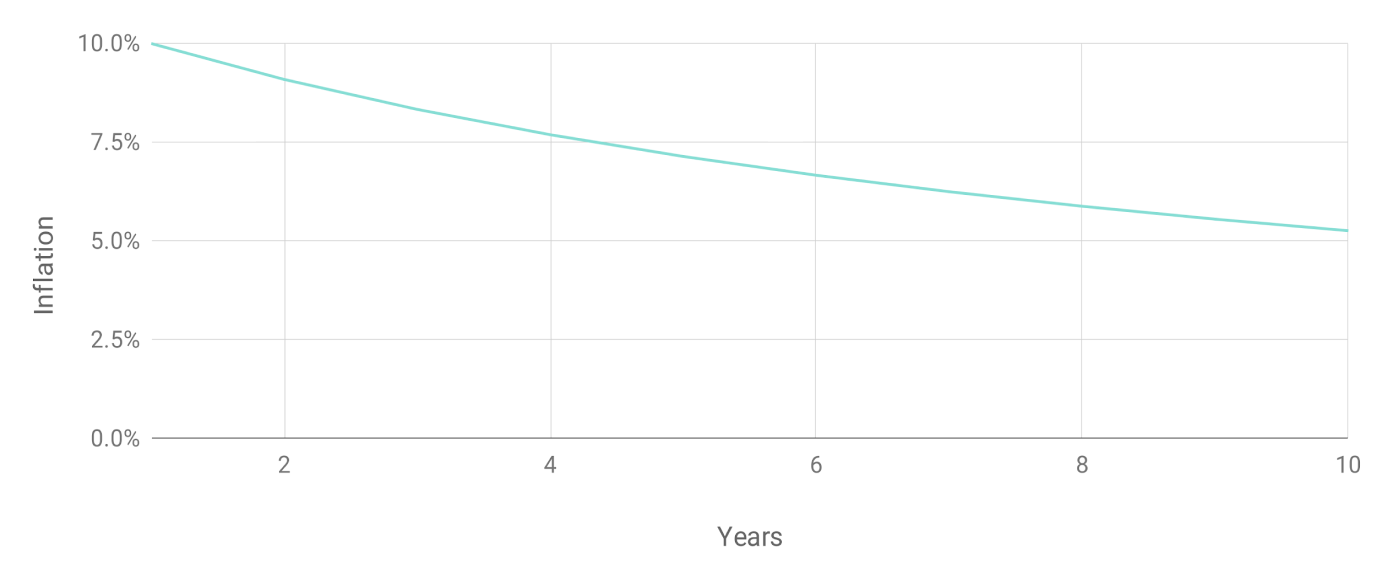 This is an estimate for a reasonable minting rate to incentivize active participation in the network. However, the rate is subject to governance by the Metacolony, which may adjust it up or down as circumstances dictate.
Minting provides funding for:
Reputation mining
When a Reputation Miner successfully performs a Reputation update, they receive a mining reward of CLNY and Reputation.
The more CLNY a miner stakes, the more likely it is they will be able to perform a Reputation update.
Ecosystem growth
The Metacolony will fund tasks, projects, and initiatives that it believes will contribute to growing the volume and value of transactions through the Colony Network, including financing the continued development of the Colony Network and the Colony Dapp.
Coin Machine
One third of the annual rate of minting will go towards a continuous sale of CLNY via Coin Machine, gradually releasing the governance token to users and providing a regular funding stream for the Metacolony as the Colony Network grows in popularity.

Shortcuts
Token sale web page
How to Prepare
About CLNY Supply
How the sale will work


Twitter
Discord announcements
Discord support