The Colony Network has been designed to become a self-sustaining public utility: a digital commons accessible by all in which censorship is impossible. We think of it as infrastructure for the future of the firm.
Infrastructure requires upkeep; ongoing management, development, and support will be needed to build a thriving ecosystem. The Metacolony will be the colony responsible for that important work. Every colony needs the Metacolony, and—radically—anyone may contribute to it (and earn a stake in the Colony Network by doing so).
The Metacolony, like all colonies, requires a native token for its governance. That token will be CLNY. Influence in the Metacolony will be based on Reputation, earned by doing work in the Metacolony. Those who have CLNY and Reputation in the Metacolony will share in the revenue of the Colony Network.

Because a decentralized organization of Colony's ambition and coherence has never been attempted before, it'll take a bit of trial and error to discover what works. And, with that in mind, we're introducing the Betacolony.
The Betacolony
The Betacolony is a precursor to the Metacolony. As the name suggests, it will be the place where we test assumptions and try new stuff. It will act as a feeder program for the successful functionality and approaches which eventually find their way into the Metacolony. It is an opportunity to experiment in a slightly lower stakes environment than the Metacolony, while still doing real work for real money.

Wanna go there right this very instant? Understandable.
Here's the URL: https://colony.io/colony/beta
The Token
The Colony Network token is CLNY (siː-ɛl-ɛn-waɪ). That hasn't been distributed yet, and when it does, it will initially be locked and non-tradable. Part of experimenting with the Betacolony will be about experimenting with incentives, and to that end, the Betacolony will have its own (tradable) token: βLNY (biː-ɛl-ɛn-waɪ), or:
Domains
We're keeping it simple to begin with—just two domains:
🖥Product—This is really where anything remotely related to anything related to the Colony platform will live.
📈BDSM—Business Development, Sales, and Marketing. Why? What did you think it stood for?
Suggestions
We want you to use Colony and make suggestions about either:
🖥Product—Things you'd like to see get built for Colony. Ideally these will be stand alone items that any competent dev could build. Think external applications (like a colony explorer, analytics, or other tools), extensions to the Colony Network contracts, or that enable new behaviours (like quadratic voting or Holographic consensus). Perhaps integrations—either with popular web2 platforms like Github, or with web3 tools like Maker, or Uniswap.
📈BDSM—Work that could be done (perhaps by you) to spread the good word about Colony, and invite great new people and projects to our community. Perhaps you want to make a short explainer video? Or tutorials? Want to write for the Colony blog? Could you host a meetup in your city to enthuse people about Colony? Whatever your skills, let us know how you can use them to grow adoption of the Colony platform, and engagement in our community.
We'd also like you to upvote other peoples' suggestions if you like them.
Tasks
In our initial role as Benevolent Dictators, we'll both create tasks and select the suggestions that take our fancy and pump them full to overflowing with fresh, steaming βLNY. We've also put an initial 10K DAI down, and that money very literally cannot leave the Betacolony except by being paid to people—so come get some!
Rewards
All βLNY paid out by the Betacolony will contribute towards a series of thresholds which will trigger Rewards distributions. Once each threshold is reached, Betacolony members will be eligible to claim a share of the rewards distribution proportional to their combined βLNY holdings and Reputation in the Betacolony.
After each rewards distribution is complete, we will deposit enough DAI so that the total DAI in the rewards pot is at least equal to the total amount needed for the next Reward Distribution.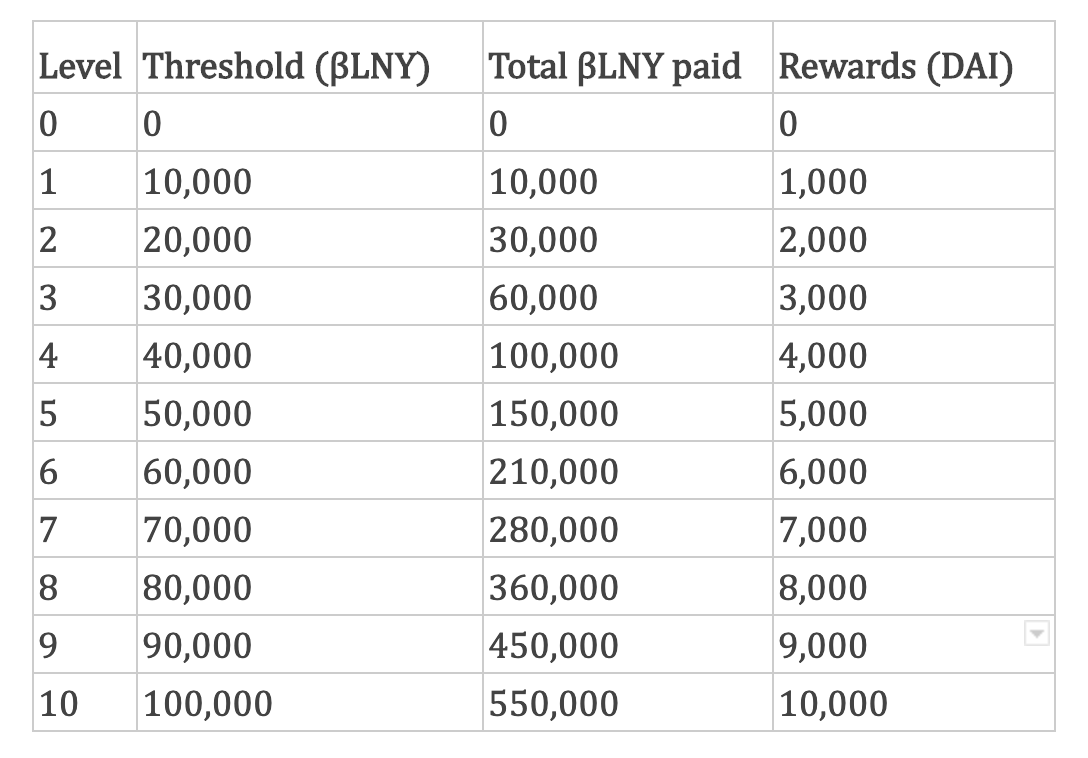 Further threshold requirements will be calculated using this formula:

The Boring Legal Bit
In addition to Colony's Terms and Conditions of Use, this article is for informational purposes only. This is neither an offer to sell nor a solicitation for an offer to buy Allocation Agreements or Tokens in Colony.
None of Colony, its subsidiaries and affiliates, nor any of their respective directors, officers, employees, agents, affiliates or advisers (collectively, the "Related Persons") will, to the maximum extent permitted by law, be responsible or liable for this article (or the information contained in it), and none of the Related Persons makes any warranties or representations, express or implied, as to the accuracy, suitability, fairness, completeness or otherwise of such information including where such information contains errors or misstatements.

The reader acknowledges that, to the maximum extent permitted by law, each Related Person excludes and disclaims all liability to the reader or to any other person for any expense, cost, loss or damage of any kind including direct, indirect or consequential loss or damage incurred by any person arising from or relating to any information included or omitted from this article, whether by reason of such information being inaccurate or incomplete or for any other reason.
Forward-looking statements
Statements contained herein, other than statements of historical fact, are or may be deemed to be forward-looking statements. These statements are based on Colony's current plans and expectations and involve risks, uncertainties and other factors that may cause actual results, performance or achievements to be different from any results, performance or achievements expressed or implied by these statements. Colony retains the right to alter these plans in any particular, in their sole discretion, without obligation to inform the reader of such change(s).
---

Colony is a platform for community collaboration—do work, make decisions, and manage money, together.
Join the conversation on Discord, follow us on Twitter, sign up for (occasional and awesome) email updates, or if you're feeling old-skool, drop us an email.
---